Malaga Airport (AGP)
Use this website to quickly find the most important information about Malaga Airport or Costa del Sol Airport: Flights (Departures, Arrivals and Delays), Parking, Car Hire, Hotels near the airport and other information about Málaga airport. Plan your travel to AGP Airport with the information provided in this site.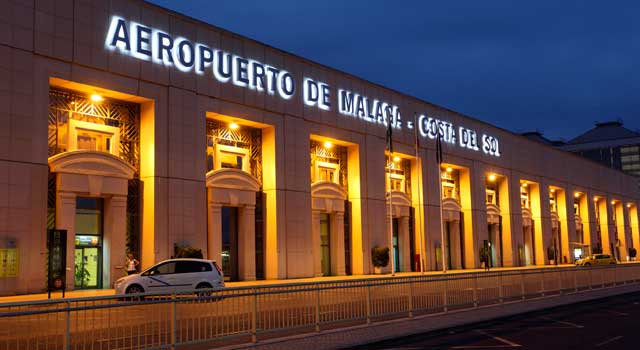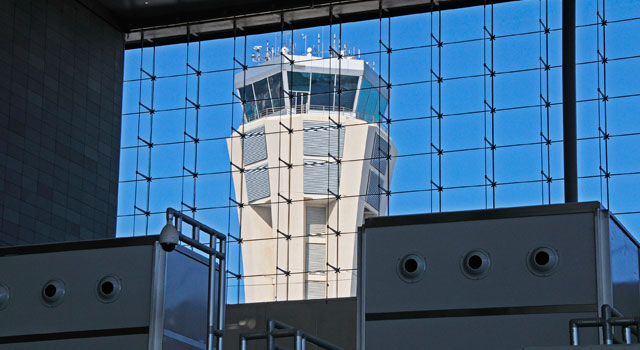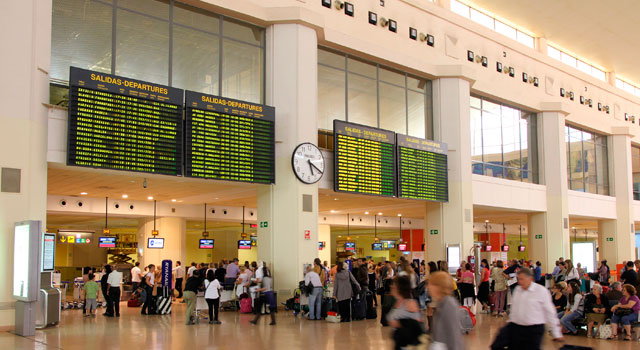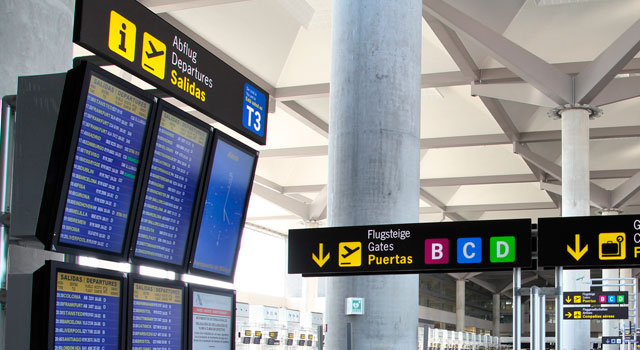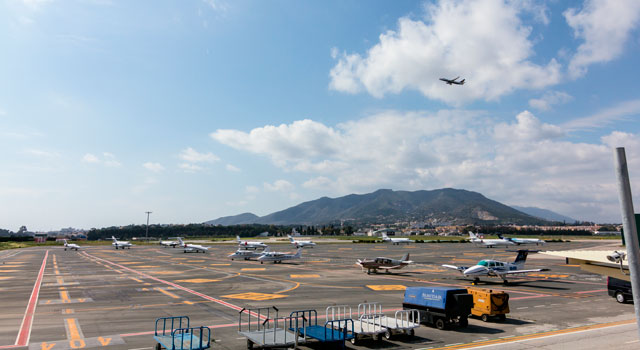 Málaga Airport (IATA: AGP, ICAO: LEMG), officially Málaga-Costa del Sol Airport (Spanish: Aeropuerto de Málaga-Costa del Sol) is the fourth busiest airport in Spain after Madrid-Barajas, Barcelona and Palma de Mallorca.
It is an important airport for Spanish tourism as it is the main international airport serving the Costa Del Sol. It is 8 km (5 miles) southwest of Málaga and 5 km (3 miles) north of Torremolinos. Málaga - Costa del Sol Airport is the international airport of Andalucia accounting for 85 percent of its international traffic and is the only one offering a wide variety of international destinations.
In 2017, 18.6 million passengers passed through it. The airport has flight connections to over 60 countries worldwide.
AGP airport is connected to the Costa Del Sol and has a daily link with twenty cities in Spain and over 100 cities in Europe. Direct flights also operate to Africa, North America and also Middle East, in the summer season.
The airport has 3 passenger terminals, but all the flights depart from Terminal 3 (in some cases the check-in is done at other terminals).
See below related information about the terminals in Malaga Airport:
- Terminal 1: Since the inauguration of new T3, it is not used anymore and all facilities are closed.
- Terminal 2: Since the new T3 opened, the terminal has changed, and has had a renovation. Most people consider that it is a part of Terminal 3.
- Terminal 3 or T3: It was inaugurated in 2010 and is the main Terminal in Malaga Airport. All flights at AGP airport depart from this terminal. It is adjacent to Terminal 2. It has 3 piers: B, C and D
Malaga airport has lots of different services available to all passengers as: restaurants, bars, cafés, stores, Duty Free, VIP Lounges (P2), Medical Assistance, Defibrillators, Free WiFi, ATMs, Currency Exchange, Pharmacy, VAT refund, among others.
Contact Information
Address: Avenida Comandante García Morato s/n . 29004 Málaga, Andalucía, SPAI
Email: infoagp@e-externas.aena.es

Telephones: 902 404 704 / (+34) 91 321 10 00
From Malaga Airport there are various methods of transportation to get around and explore the area:
- Bus: There are urban, intercity and long distance buses available that run to different destinations. City buses: there is an express bus that reaches the city center in 15 minutes. Intercity buses: run to Marbella, Estepona and Malaga-Santa Amalia. Long-distance buses: various buses run to Motril, Granada, Sevilla or Algeciras. More information
- Train: RENFE C1 line links Malaga airport with the city center in about 12 minutes. It also runs to other destinations such as Benalmadena or Torremolinos. More information
- Taxi: Vehicles are white with a blue line on the side. There are urban and interurban areas. There is available a list next to the taxi rank to know the taxi fares. More information
Some interesting data
- The busiest year in terms of passenger traffic was 2017, when 18.6 Million passenger used the airport.
- The busiest european routes are: London (operated by 5 airlines), Manchester and Barcelona.
- The airport is mainly used for lowcost carriers, being Ryanair, EasyJet and Vueling the airlines operating more flights.
Car Rental
Check here the different options and prices to rent a car at Malaga airport!
Seasonal Tips
The tourism and, as a result, the passengers using Malaga Airport is very seasonal. The months with more traffic are, following the order: August, July, September and June. If you plan to travel during these months, be sure to make a well Car Hire booking in advance to avoid high prices.